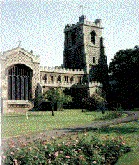 This church is the largest in Bedfordshire and one of the finer medieval churches in England. It dates mainly from the 14th and 15th centuries. The earlier church was built about 931, founded by King Athelstan as an act of thanksgiving for victory over the Danes. The land here was owned by the king in Saxon and early Norman times and the church was very richly endowed.
The present building was founded on a new site about 1121 by Robert, Earl of Gloucester and consecrated in 1137. The Normans built it cruciform, without aisles but having a central tower. The population increased, so a south aisle was added c1190 and a north aisle c1230, their arches from the transepts being the earliest dateable features in situ.
14th Century
Further enlargements of the building were made in the early 14th century - a noble tower was added and the transepts were probably extended, with twin arches opening into the new chapels on their east side. A vaulted sacristy with an upper room was built north of the chancel. A new font was given a unique canopy of stone, octagonal, with panels and gables, entirely decorated with an amazing variety of leaf carvings.
15th Century
During the 15th century there was much rebuilding in Perpendicular style. In 1461 Lord John Wenlock (whose family had been connected with the manor since 1389), rebuilt and extended Someries Chapel, with its big windows and magnificent double-arched stone screen. The sacristy was re-erected further east. Finally, the west tower was made taller and most windows renewed. All this work gives the building its grandeur and spaciousness.
19th and 20th Centuries
Restorations began in 1865, initiated by the vicar, James O'Neill; They included G.E.Street's east window of oversize triple lancets and raising the chancel floor. Flint and stone chequer, original to the tower, was extended to other walls. The tower was restored in 1906 and the Wenlock Chapel in 1914.
Extensions were added in 1968, comprising hall, offices and vestry, planed to blend with the old building. The Magnificat Window in the south transept was designed by Alan Younger and installed in 1979. Two new bells were added to the peal of ten in 1984.